Quinoa has been taking the health world by storm! Our recipe today is focused around this miracle seed and lets go through a little nutritional information before we consume it, shall we?
It is the new superfood that all dieters crave about. It is protein rich (14% by mass) and its protein content per 100 calories is higher than brown rice, potatoes, barley and millet! The protein found in quinoa is also better than most food sources because it has complete proteins which is hard to come by. It is high in fiber, calcium, phosphorous, magnesium, and iron. Quinoa is gluten-free and very easy to digest.
This year, the Food and Agricultural Organization of the United Nations (FAO) officially declared that the year 2013 be recognized as the "International Year of the Quinoa!" How awesome is that? A tasty recipe that uses the international ingredient of the year! Quinoa is also a great source of antioxidants. Pair this superfood with garlic and you have yourself a delicious, but mainly nutritious treat. Enjoy
GARLIC AND THYME QUINOA PATTIES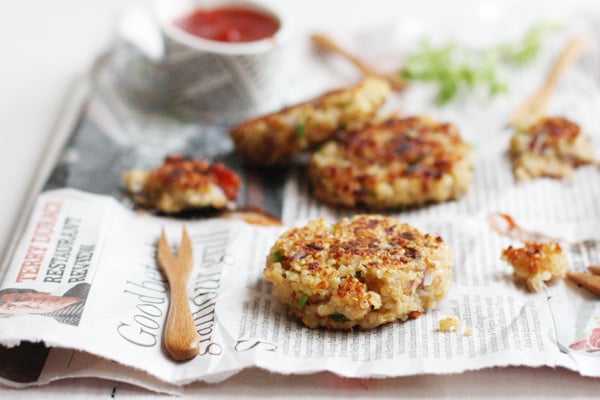 Don't those look delicious! I love having mine with some ketchup.
Preparation Time – 20 minutes
Cooking Time – 20 minutes
Makes – 20
Ingredients
5 organic eggs
1/2 cup grated Parmesan cheese
3 whole meal bread slices, processed into breadcrumbs
1/4 cup chives, finely chopped
3 garlic cloves, finely chopped
1 large Spanish onion, finely chopped
1 tablespoons fresh thyme, finely chopped
1 teaspoon mild paprika
sea salt flakes to taste
olive oil to pan fry
Method
Put all ingredients in a large bowl and mix well with a large wooden spoon until thoroughly combined.
Scoop some mixture in the palm of your hands to shape a patties approximately 5cm in diameter and 1cm thick. This size will yield approximately 20 patties with the mixture you have. (You can make them smaller and thicker or large and flatter as per your preference.)
Heat 1 tablespoon oil in a large frying pan on medium heat. Gently place 4-5 patties in the pan and shallow fry, cooking each side for 2 minutes before gently flipping over with a small spatula to cook the other side. Repeat till all patties are cooked. Use a tablespoon of oil each time you start cooking a new batch of patties.
Serve hot or cold with ketchup and salad greens.
Notes
These are delicate patties and a tad tricky to shape as they may stick to your hands or fall apart in the pan. Gently handling will prevent them from falling apart. once one side is cooked, they become easier to manage and even flatten nicely for even browning.
If you find it impossible to work with them or shape them, try adding 1 tablespoon of plain flour to help them hold their shape.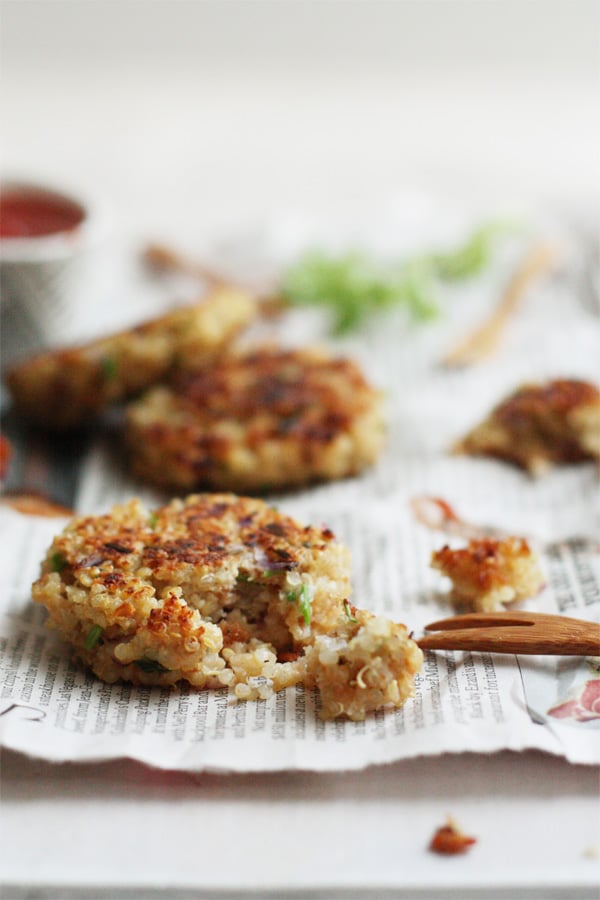 Moist patties with crunchy exterior.